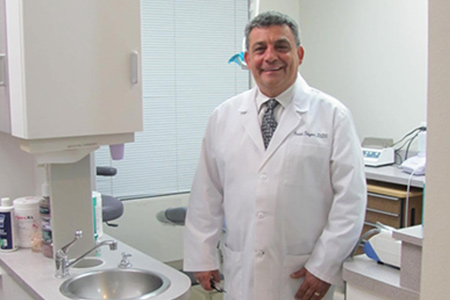 Welcome to Your Dentist in Westlake Village
Farid Tebyani, DDS, Westlake Village Dentist
Background and Credentials
Dr. Tebyani was born in the capital city of Tehran. He has traveled the world extensively. At an early age, his family moved to live in Holland and England. He finished high school at Fulneck School in Leeds, England. Then they relocated to San Diego in 1980 and soon after he moved to Peru where he lived for 20 years. Dr. Tebyani obtained his degree in Dental Surgery from the Cayetano Heredia Peruvian University in 1992 and served as one of the clinical and laboratory associate professors for undergraduate students. Upon returning to the United States, he validated his studies with preparatory courses at University of California, Los Angeles and passed the California Dental Board in 2005.
With over twenty years of experience in providing dental care, Dr. Tebyani emphasizes the importance of a good diet, and teaches his patients the essential oral hygiene skills and habits to ensure good oral health which leads to an optimal improved overall health.
Dr. Tebyani, with a passion for pediatric dentistry, is highly skilled in treating children. He has extensive experience in making it a happy occasion for children to visit the dentist and teaches them to keep their teeth clean and healthy.
With thousands of hours of continuing education, Dr. Tebyani has advanced training in detailed and comprehensive diagnosis and treatment planning.
It's imperative to Dr. Tebyani that his patients are aware of the role that dentistry and oral health play in one's overall health. Along with a healthy diet, good oral health has been linked with mitigating the severity of heart conditions, diabetes, and Alzheimer, among other diseases.
Dr. Tebyani's hobbies are travelling, basketball, and participating in community building activities that contribute to the spiritualization of mankind. He hopes that one day world peace will be established and nations will not raise war on nations; that the world will come together as one happy, human family.
*Dr. Tebyani is a General Dentist and works with Oral Surgeons, Periodontics, Orthodontics and Endodontics specialists in the area.